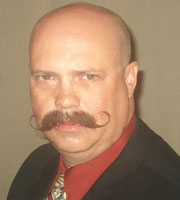 Mac McNamara has more than twenty years experience in creating and marketing technology solutions. He has experience with companies of all sizes from mom and pop shops to Fortune 100 companies. He has worked for and consulted to government, telecommunications, technology and foodstuff manufacturers, in positions from systems analyst to Vice-President of marketing. He brought a turnkey telemarketing system and a contact management software system into the national marketplace.
Mac McNamara, artist, developer and marketer
With a background that encompasses engineering and graphical design, Mac is a natural with web site design, programming, and marketing. During his career he has created technology products and marketed computer programs and systems. With a firm understanding of web technologies Mac keeps it simple for both business owners and web users. Great designs that attract web surfers and the search engines make for websites that accomplish their business goals. Mac works hard to make sure he understands business goals and website users needs. As founder of Onward Internet Marketing, Inc. Mac gets involved with all aspects of the business from competitor research and marketing metrics through keyword optimization and useability analysis. Mac's unique background provides a combination of technology and marketing skills to move your web site to the forefront of today's high-tech global economy. Mac McNamara founded Onward Internet Marketing in 2004 in response to the need that small businesses had to have their web sites found. Before Onward, small businesses were often at a loss as to having their website found on the search engines. Organizations had grown that catered to large business enterprises, and charged fees that only large businesses could afford. Onward has developed and accumulated the tools necessary to manage the websites of medium and small businesses without the expense that often comes with a SEO and Web Promotion program. Call or use or contact form to start a conversation with Mac McNamara about how Onward Internet Marketing can create and manage a program that makes your website more than just another business expense. Your website can be a valuable part of you marketing and sales process, and we can show you how.
What customers say
Terry Jungers of Lady of the Lake said "Mac has been easy to work with and is detailed oriented. He created and manages my website, including regularly updating my events calendar. He created my Facebook® page and keeps it up to date. A quick phone call is all it takes to get a question answered or an update made. I've had a relationship with Mac for more than 9 years, and intend to keep that relationship for many more years." Andrew Shea of Shea Glass said "I get plenty of comments about the good looks and ease of operation of my site." Dave Molitor of Big Water Boat Brokers said "Mac took our ideas and graphics and created a web site that reflects our style and business. The site works well to show off the boats we are representing and the complex boat sales form works like a charm."